Ukrainian and Russian Bride dating advices - CQMI blog
Latest Articles
How to Meet Women in Ukraine for free?
Date girls for free in Eastern Europe: this is a subject that should interest you if I judge by my discussions this week on the phone with our prospects. Indeed, I decided to call the many interested single men, who register on the website of our matrimonial agency. Most of the time, I get a mountain of compliments on the quality of our reports in Ukraine and on the mentality of the Slavic girls in interview. This free information gives you wings and gives you hope to meet the woman of your dreams. So, after consulting in detail the CQMI website, you will directly pick up a cheap flight to Kiev. Your ticket purchased, you take your backpack out of the attic and you prepare for the big adventure in Kiev. After all, it's not so far away ...
Portrait-robot of the single man in search of love in Kiev, Kharkov, Lvov or Dnipropetrovsk ...
You already have a great travel experience and you enjoy discovering new cultures. Adventures, you like it! Through one of your friends, you have heard about Slavic women as a rule. Your friend has already been to Moscow with this agency he told you about and he has seen the most beautiful women on the planet there. They are tall, slim, gentle, intelligent, attentive and very open-minded. You want to go and see with your own eyes and that is normal. Conscientious, you decided to learn some rudiments of Russian with Russian for Dummies. It can always be helpful, you never know. After some research on the internet you already know that the cost of living in Ukraine is low. You book your room with Airbnb. Why pay an expensive hotel when you can get by otherwise? And then the Ukrainian girls, where to find them? There are plenty of them in the streets, it's true. But it would be better to discuss a bit with one or two girls met on a free dating site before the trip to Kiev, Boryspol. It is more careful.
I speak a little Russian, I learned some words ...
I will always remember this young man who we had accompanied in 2015 in Kiev and who had spent more than a year to take Russian courses on the Internet and at the University of Montreal. Impatient to practice in a Russian-speaking country, can you imagine the disappointment when he realized that it was impossible to understand anyone in cafes, in the street, or even with sellers. Insufficient level ... Even worse, impossible to understand even for the most basic demands such as: "I would like a coffee please" or "What is the nearest metro station". Disappointment…
Learning a language at home is one thing ... Practicing it in the field is another thing. So we must fall back on the English damn. And again ... few people understand you.
To speak the Russian language as a dilettante, and the trap closes ...
Now, let's try to see a psychological aspect ignored. Speaking the Russian language at a low basic level is worse than not talking a word. By trying to communicate your incomprehensible rudiments with Ukrainian passers-by and traders, you will inevitably unveil your portrait above. You are a man a little naive, easy to fool, who came to Ukraine looking for a pretty girl. Do you think you were the first to get this brilliant idea? A single man in Ukraine, who has learned a few Russian sentences and is looking for his way, is an easy prey for crooks. Do not be surprised to see one or more Ukrainian sirens crossing your path accidentally. The consequences... are often banal and sad.
The vast majority of single men who attempt the adventure alone in Ukraine come back sickened in their country, explaining that all Ukrainian women are prostitutes. Generalizations are easy to do when undergoing trauma.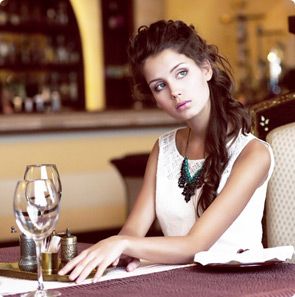 Cheap accommodation, or how to give a loser image
When you travel to a foreign country, you naturally want to reduce your expenses. After all, we go to Ukraine to meet girls and not to rest in a luxury hotel. Following this reasoning, one of our clients found free accommodation in a church in the suburbs of Kiev. When the women he met learned of his place of residence, they began to doubt his seriousness. "A foreign man who cannot afford a hotel in Kiev will not have the financial means to take charge for my integration into his country": so Ukrainian women reason. Moreover, if your relationship develops to the point that you want to have some privacy, you cannot count on the fact that she will invite you to her home. This is very unlikely from a cultural point of view.
The importance of the assistant to successfully adapt AND the meetings.
Without the help of an on-site assistant, your trip will be much less interesting. Some mistakenly believe that the assistant is an embarrassment to their freedom of movement in Ukraine. Your assistant is not intrusive. She will help you save money during all your transactions. Remember the very elegant way Kamilla brought John out of a situation in which he could have lost a lot of money? Or the story of a sexy girl who wanted to invite our client at her place directly after the meeting. An assistant will avoid you all the usual pitfalls in which the tourists in search of love in Kiev fall. You will be in an ideal situation to make your meetings with Ukrainian girls.
A CQMI assistant will reduce for you the cultural aspects that could stop the machine at the start of the relationship. Remember that by adding a Ukrainian translator to our services, our success rate instantly tripled.
A Ukrainian girl on a dating site or on the street: how to meet?
Are you going to Ukraine to meet a woman to start a family or to do sex tourism? Will the high-heeled girl you meet in a bar in Kharkov or Kiev be the ideal candidate to start a family? In Ukraine, who are the serious girls who have the time to hang out in a discotheque looking for a sexual partner? A serious girl will not be where foreign tourists are going. In tourist areas, you will find profiteers, scam artists, girls sleeping with interest, girls of little virtue.
The dating site in Ukraine is used by girls who do not want to show their passport because they are already married, in a couple or older than the age indicated on their profile. Remember that it is impossible for you to redo the whole process of verification of the members of the CQMI dating agency. When you meet a girl from our agency, you have in front of you a sincere and motivated single woman, ready for a nice couple relationship with you.
Ten cheap trips to Kiev or 1 successful trip with the CQMI Matchmaking process?
In the end, here is the advice of friend that I would give you. You are an adventurer, you have the taste of travel and adventures of all kinds, so go alone in Ukraine and learn a little Russian, find a cheap accommodation, but do not go to find a Ukrainian girl. Go for fun. You will have fun and certainly lots of great adventures to tell your family and friends on your return. If you want to meet a beautiful Ukrainian girl to start a family, trust the specialists of the CQMI dating agency and you will save your money.

Latest from Antoine Monnier